Aihand Cordless Pressure Washer, 652PSI Portable Power Cleaner with Rechargea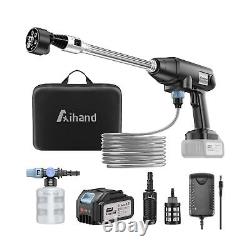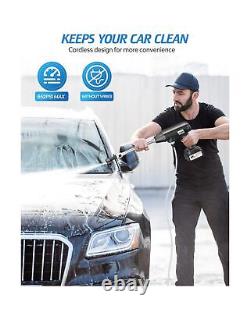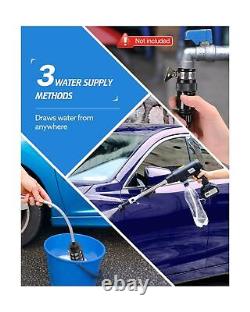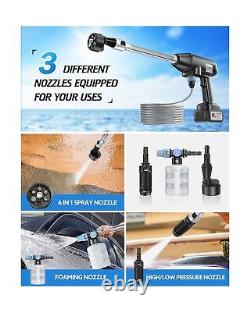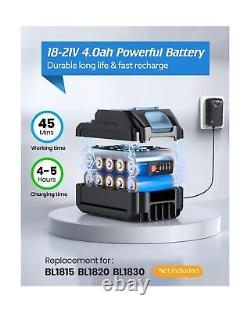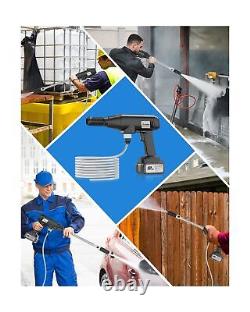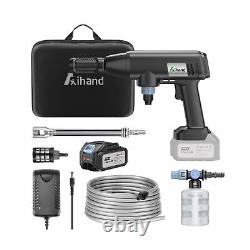 Aihand Cordless Pressure Washer, 652PSI Portable Power Cleaner with Rechargeable 4.0Ah Battery 6-in-1 Nozzle, Handheld High-Pressure Car Washer Gun for Home/Floor Cleaning & Watering, Charger Included. Powerful Cordless Pressure WasherAihand Cordless Power Cleaner offers a powerful 652 PSI motor capable of spraying up to 215L/H. It is a truly portable power washer that allows you to clean all your outdoor spaces and equipment easily and quickly. Draws Water from AnywhereThis high pressure cordless washer is about 2.5lb. The 16.5ft hose with filter basket can effectively filter impurities, particles, waste leaves or sludge, better protect our pressure machine.
Compared with others, our battery-powered pressure is lighter and more portable. Powerful 21V BatteryThe Aihand portable pressure cleaner features a high-performance 4.0Ah battery, providing long-lasting power and dependable performance.
Rechargeable and compatible with various power tools, this 18-21V battery allows you to use the pressure washer for up to 45 minutes on a single charge. Ideal for both DIY enthusiasts and professionals, the Aihand pressure cleaner is a smart investment that lets you get more cleaning done in less time. 3 Different Spray Nozzles for Your UsesEffective Cleaning.
Our battery powered cordless pressure washer has a triple watering system. Comes with a 6-in-1 spray nozzle for 0,15,25, 40, Fan-Shaped Mode and Shower Mode.
The hig/low pressure nozzle and 400ml mixture container offered can be widely used for cleaning vehicles, bikes, boats, windows and driveway. Versatile & WarrantyThe Aihand cordless portable power cleaner is perfect for a wide range of cleaning tasks at home and in the garden. With multiple accessories and high power, it efficiently and effectively waters plants and cleans walls, floors, baths, pools, doors, driveways, fences, and hard-to-reach corners. Power Source: ###128170;Battery Powered.
Maximum Pressure: 652 Pound per Square Inch. Item Weight: 2.5 Pounds. Hose Length: 16.5 Feet. Product Dimensions: 10.24"L x 8.46"W x 1.18H. Item Weight: 2.5 pounds. Batteries: 1 Lithium Ion batteries required. Except on weekend or public holidays. We stand behind our products. Your receive the wrong item.