SCHTUMPA Cordless Pressure Washer 652PSI Portable Power Washer with 6-in-1 No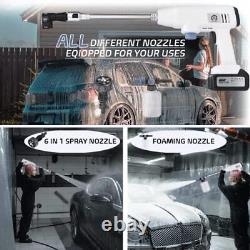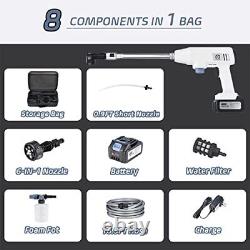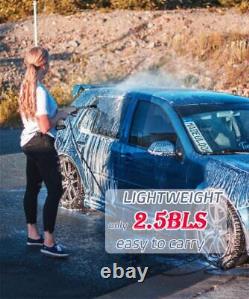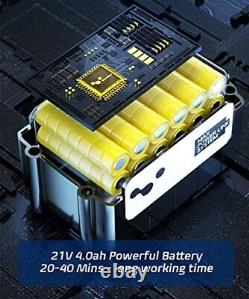 SCHTUMPA Cordless Pressure Washer, 652PSI Portable Power Washer with 6-in-1 Nozzle, Electric Pressure Washer Gun, 21V - 4.0Ah Battery for Car, Wall, Floor, Window and Outdoor Cleaning. 6-IN-1 NOZZLE & FOAM POT? Cordless Pressure Washer has 6 settings-0°, 15°, 25°, 40°, Fan Shaped Mode and Shower Mode, which can be switched freely for different use scenarios. Equipped with a foam pot, you can add various detergent preparations at will.
Using our Portable Power Washer, you won't be restricted by the faucet. For 16.5ft hose with filter basket, Electric Pressure Washer Gun can use any water source you find(suck water from a lake, pool, or bucket).
652PSI Electric Pressure Washer Gun can watering plants and handle stubborn stains for multiple situations(cleaning cars, walls, floors, baths, swimming pools, doors, driveways, fences and corners). For the weight of 2.5lbs and cordless design, Portable Power Washer is easy to install and use. You won't feel tired when using it in one hand for a long time, and you won't worry about problems for electric wire and gas. Our Cordless Pressure Washer has a Rechargeable 4.0Ah Battery. You can use this 21V Battery Pressure Washer for at least 20mins after being fully charged.
Without additional large power device, you can easily store and carry it. Convenience: Cordless Pressure Washer is light, portable and you don't need to plug into a power source or have a water faucet near by. So you can bringing your own bucket of water, or maybe you make use of a lake, creek, ocean etc.
In addition, we provide a small toolbox, which can perfectly accommodate all product accessories How to maintain the product:Considering the water quality(incrustation of hard water will block the nozzle), in order to prolong the service life of Electric Pressure Washer Gun as much as possible, you must ensure that the clogs in the spray tips or adjustable nozzles are completely clear and intake hose & filter must be cleaned after use. For battery maintenance, if you need not use it in winter, you can store it at full charge.
Pay attention to the use of 0°spray nozzle: If Electric Pressure Washer Gun(using 0°spray nozzle) is too close to paint, it will be risk of damage for car paint and delicate surfaces/finishes. Not a substitute for 120v/gas units: Plenty of chores can benefit from this Portable Power Washer, such as car washing (suggest 40° spray nozzle not to damage the paint), but it still cannot replace 120v/gas units or large equipment (over 1000PSI). Solutions to pumping problems:If your Electric Pressure Washer Gun unfortunately doesn't come out of the water, you need to fill hose/intake tube with water the best you can(hold one end up so air bubbles will flow out) to connect tube to gun, and blow the open end to force water into the pump of the unit. SPECIFICATIONS Working Pressure: 652PSI Max Weight: 2.5 Lbs (Including battery) Flow Rate: 3.6L/min=215L/h Battery Capacity: 4Ah Motor Voltage: 21V Working Time : 45 min Charging Time: 4-5 hrs. Any product you return must be in the same condition you received it and in the original packaging. We usually respond within 24 hours on weekdays. Thank you for shopping at our store!